THE DIFFERENCE BETWEEN COCOA AND CACAO
What's the difference difference between cocoa and cacao?   Find out more about the differences and health benefits of cocoa, and in particular cacao, on this page.
COCOA & CACAO START OUT THE SAME WAY
At source, cocoa and cacao are the same as they both come from a South American tree called the Theobroma.
Pods are produced by the tree which contain cacao beans (that look a little like a coffee bean).  Once the pods have been harvested, the beans are taken out of the pods and dried in the sun.  What happens next determines whether the beans become cocoa powder, cacao powder or cacao nibs.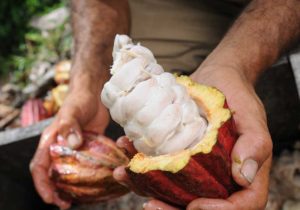 Cocoa is produced by extracting the seeds of the Theobroma cacao tree from their pods, then removing the mass of soft, white and sweet pulp which surrounds them. In the case of Food Thoughts cocoa, the seeds are allowed to dry as naturally as possible in the sun.
After the beans have dried, they are roasted to high temperatures before grinding to make cocoa. This roasting process loses some of the nutritional benefits which is why cacao is viewed as healthier than cocoa, but Food Thoughts cocoa is as minimally processed as possible so that we can produce a wonderfully rich and wholesome, fine quality organic 100% cocoa powder.
Some cocoa powders have additives such as sugar or milk but ours remains as natural as possible – just the way nature intended and to benefit you in the best way we can.
Cacao goes through as little processing as possible.  Once our cacao beans have been dried naturally in the sun they go through a 'cold-pressing' process to remove the fat (cacao butter) allowing the natural nutrients to be retained before the cacao beans are ground to create natural cacao powder or crushed to produce our roasted cacao nibs.   The various forms of cacao are as follows:
Cacao Powder – Produced by milling the cold-pressed cacao beans into powder.  The taste is unmistakably chocolate but a more bitter form.
Cacao Nibs – These are the cold-pressed cacao beans chopped into pieces like chocolate chips. They are less sweet than chocolate chips but have a rich, bitter, chocolatey taste.
Cacao Butter – The cold-pressing processes removes the fat from cacao beans. This fat is used to make cacao butter, which has a rich texture and a taste that resembles white chocolate.
IS COCOA OR CACAO HEALTHIER?
Cacao is less processed which makes it the healthier choice compared with cocoa.  The additional processing that cocoa goes through removes some of the essential nutrients from which you may benefit.  In its final form the cacao powder which simply has been ground, is packed with nutrients making it the perfect choice for healthier baking.   Cacao is also a fantastic antioxidant and is called a 'superfood' by many due to its many health-giving properties which include the following:
·         Cacao powder or nibs contain more calcium than cow's milk
·         It protects your cells against the damage that free radicals can cause
·         Cacao has 50 times more vitamin C than blueberries
·         Helps to improve your mood
·         Boosts cognitive performance
·         Lowers blood pressure
·         Keeps your heart healthy as well as reducing the risk of stroke and cardiovascular disease
·         Helps to regulate levels of insulin, even in people with diabetes
·         Helps to protect the nervous system
·         It contains more antioxidants per 100g than acai, goji berries and blueberries
The extra processing that the beans go through to make cocoa powder does not mean that all the nutrients are lost from it. Cocoa also delivers a wide variety of health benefits still as it contains fibre, protein, fats, other nutrients and antioxidants. So, even though cocoa comes in second place to cacao (as far as retained nutrients are concerned), it is still a wonderfully healthy choice so long as you make sure that the brand you choose does not have added sugar.
The chart below shows the difference in trace elements per 100g for Food Thoughts cocoa and cacao powders
WHAT ARE THE DIFFERENCES BETWEEN FOOD THOUGHTS' COCOA & CACAO?
TRACE ELEMENT CONTENTS PER 100g
Table of Nutritional Information
Table of Nutritional Information
You can rely on Food Thoughts for the high quality of our cocoa beans which originate from a single source and meet the 'Cacao Fino de Aroma' standards (only around 7% of cocoa meet these standards of excellence).     Our organic 100% cocoa powder, natural cacao powder and roasted cacao nibs have an exquisite aroma, rich and velvety chocolate taste and are ideal for healthier baking.    Food Thoughts cocoa and cacao are naturally gluten free, nut free, soy free and suitable for vegans.